Bowhunting Equipment & Hunting Products Reviews
I try to review different products I use on this page. All items ,unless otherwise noted, are purchased outright. I find this to be a better way of giving an honest review. I use these items whether I go hunting for deer or feral hogs. If I haven't tried it, I won't comment on it. Stock photos may be used in many cases.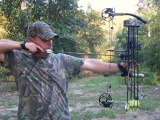 BowTech Assassin
So I decided to update a little and recently bought a BowTech Assassin bow. One of my main reasons was the value of it. The RAK package came equiped with everything I needed except of course for arrows. It's loaded with an Octane Hostage arrow rest which I have decided I like, a stabilizer, wrist sling, peep sight, Apex 4 pin sight and more! So far in just practice/target shooting. I really like this bow. Having never shot the Binary cam system before, it did take a little getting used to. But I do enjoy it now. We all know the hype on speed. And most IBO speeds are done under certain conditions with certain deviations from what we would actually use in our backyards or the range or out in the woods. But this bow is definitely fast and accurate! Keep checking back for kills made with this awesome bow.
Muzzy Broadheads.
I have used both the Muzzy MX-3 Broadheads
and the Muzzy MX4 Broadheads 4 Blade
and both were 100 grain. I like them because they have never failed me. I have tried a few expandables but keep coming back to the Muzzy's. That's not to say I will only shoot them as I plan to keep experimenting. But I do like these for simplicity and effectiveness.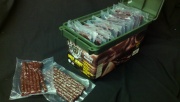 Now it's time for a review on something I didn't buy. I actually won this on a "social site". Anyhow, I entered one of those many drawings on the site and was pleased to hear I had won. I promised a review of the product on my site so here it is. Lucky brand beef jerky is a product of Nebraska Star Beef and you can also find them on their facebook page.. This is a new product out of Nebraska. First, being in Texas, I have to say, this isn't "jerky" as I grew up knowing. This is more of a beef snack stick. That however is the ONLY negative thing I can say about this product. And that's really not even negative. The natural angus jerky is extremely good! Full of wonderful flavor. I like it far more than a certain store bought snack stick not just because of the flavor but when you eat one of these, you're not getting a mouthful of grease. My kids as well as fishing and hunting partners all agree they are great! Sadly, my supply is dwindling quickly. I guess now I will just have to order some. Psst, get the "Survival Pack" and you get an ammo can with 5 pounds of product. Believe me, it won't last long!
Rage 2 Blade expandablesAs you can tell from a review above, I am a Muzzy man. I like the reliability of the fixed broadhead. And I have had good luck with Muzzy's. This year I will be trying the Rage two blade expandables. I hear positive and negative on both expandable and fixed but I think it will always come down to personal choice. As soon as I stick one of these through something I will add a review.

I used to carry my bow and gear bag around the woods. After a while (and as I got older) that became tedious. Now I use a Primos Realtree Hardwoods Bow Sling. I really like this product as it serves dual purposes. First off it makes toting around a bow so much easier. Secondly, it helps keep the string and cams clean should I have to set the bow down as I walk thru the woods.

ThermaCELL Mosquito Repellent. I really like this product. It's simple to use and it WORKS ! During bow season in Texas, it isn't much cooler than summer time usually so the bugs are on the move in the woods. And this keeps them at bay. And it's not just for the woods. I'll set it on the picnic table in the yard and stay bug free. Working on the truck or boat? Bug free again. One point I'd like to make, unless you really want it, why pay an extra 5 bucks or so for the camo model? It comes in green and I also bought the carry case for it, which is green. Bottom line is I do like this item.

As I have stated on other pages, I like hunting from pop up blinds. They offer mobility and cover.

Last year I purchased a Primos Ground Max Blind I like most things about this pop up. Although mine is Realtree AP. It's extremely roomy and easy to set up and take down. The window placement seemed off though. I don't feel they are well suited for bowhunting. They do work great otherwise. Maybe it was just my seat being too short. I'll know more this coming season.

Copyright © 2005-2012 OutdoorTexan.com